Download Sample Access File: MS Access Vs MS Excel
MS Access can be programmed to work with MS Excel by sending data from MS Access to Excel file and also can save data to Excel then send to another user via Outlook email. The communication between these two programs can be done manually or by using VBA.
There are two Access files in the download zip file.
         1. Import from Excel without duplicate
         2. MS Access Vs MS Excel
Access File #1: Import from Excel without duplicate
This file will provide a function for importing data from MS Excel to the existing table in MS Access. The column name in Excel must be matched and in the order for the name of fields in table. This file also displays the last ten records from the previously import.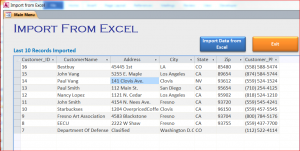 The Import Data from Excel button is provided to open the dialog window to browse to the MS Excel file that you want to import data. Select MS Excel file and click OK to import.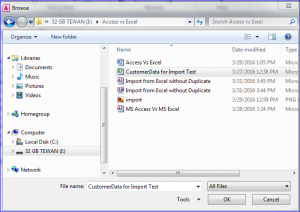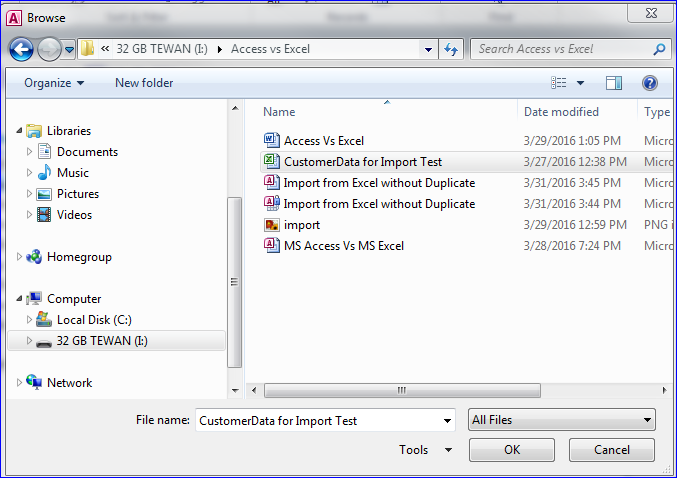 If there is no new data or the data in MS Excel file is already in the Access table then the alert message will pop-up as shown below. This feature is preventing user from importing data from same Excel file twice.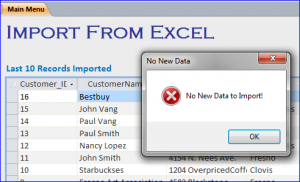 If there is an error while importing the program will open the Error Found form that gives a message for the requirement of importing. This form can be removed or replaced with other message on the bottom section of the code under the import button.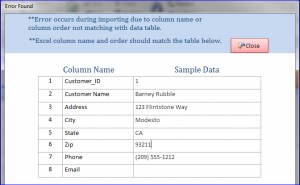 This Download file contains:
2 tables, 3 query, and 3 Forms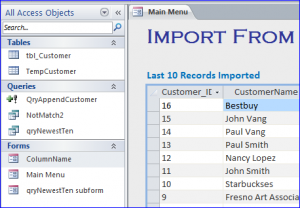 Access File #2: MS Access Vs MS Excel
The data from MS Access can be transferred out to MS Excel file, and the other way around. There are 6 forms in this file that provide different ways of exporting and importing data between MS Access and MS Excel.
Download file contains:
2 tables, 1 query, 6 Forms, 1 Reports, and 1 Module